Worried that your financial strategy is
missing something?
---
We're here to help you feel confident in your financial future.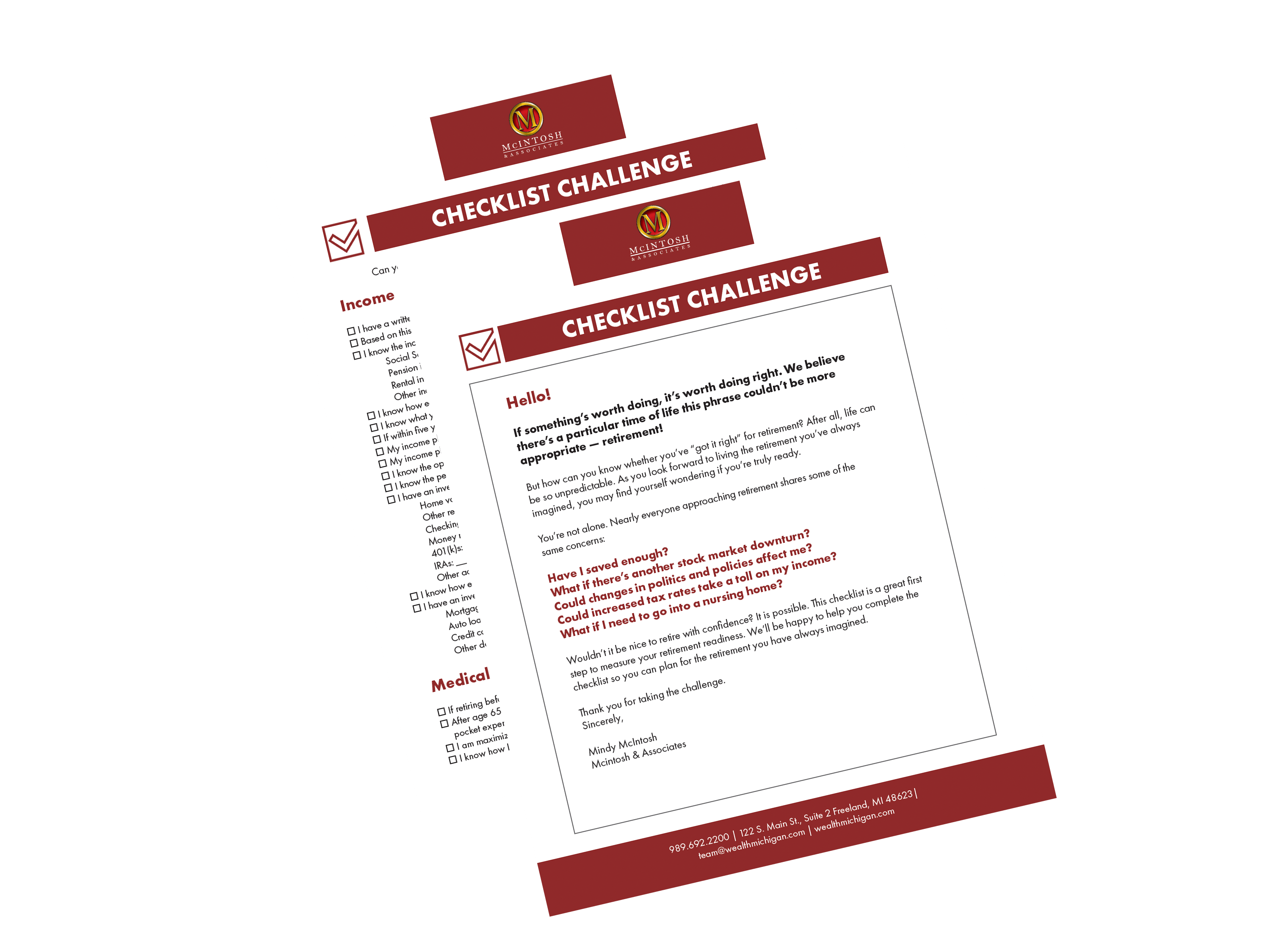 INSTANT DOWNLOAD
Take the Checklist Challenge! How prepared are you for retirement?­
This 34-point checklist will help measure your retirement readiness, guiding you through some of the most pressing retirement concerns.
You'll examine:­
Whether you're taking on an appropriate level of risk­
How your assets and liabilities stack up­
What gaps you may have in your current plan
Your Dreams Matter
At McIntosh & Associates, we believe everyone should be able to live the retirement they've always wanted. Our team of professionals can help you create a well-thought-out strategy, using a variety of investments and insurance products and services, to help you address your financial needs and concerns.
Dream Focused Wealth Plan
As part of our commitment to helping you solve your needs, we're proud to offer a wide variety of insurance products and solutions designed to help you protect both you and your family.
We make sure you are as prepared as possible for retirement by helping ensure your income needs are fulfilled. Making sure people NEVER outlive their money is our primary goal.
We offer services in these three areas:
Grow
Prepare for retirement by putting your hard-earned assets to work.
How?
Retirement Income Strategies
Wealth Management
Annuities
Investments
IRA/401(k) Rollovers
Preserve
Protect the assets that can help you live the retirement you've always imagined.
How?
Asset Protection Strategies
Life Insurance
Tax-Efficient Strategies
Long-Term Care Strategies
Give
Provide for the people and causes you care about the most.
How?
IRA Legacy Planning
We can also refer you to professionals who provide the following services:
Trusts
Probate
Charitable Giving
Estate Planning
Tax Planning
Want to learn more about our team and processes?
Ready to Take The Next Step?
For more information about any of our products and services schedule a meeting today or find out how your plan compares.